Cream to powder makes beautiful and innovative products. There's cream to powder blush from which you can apply just what you need for a natural finish. There's even cream to powder lipstick, like this one from Peripera in coco-cola can red. It's matte, but bright. Very classic, very nice. Plushy and soft. There is no need for a lip liner, and it stays well. Weird. But cream to powder foundation? It's usually way too matte. Still pondering whether you should go dewy or matte with your foundation? Read on.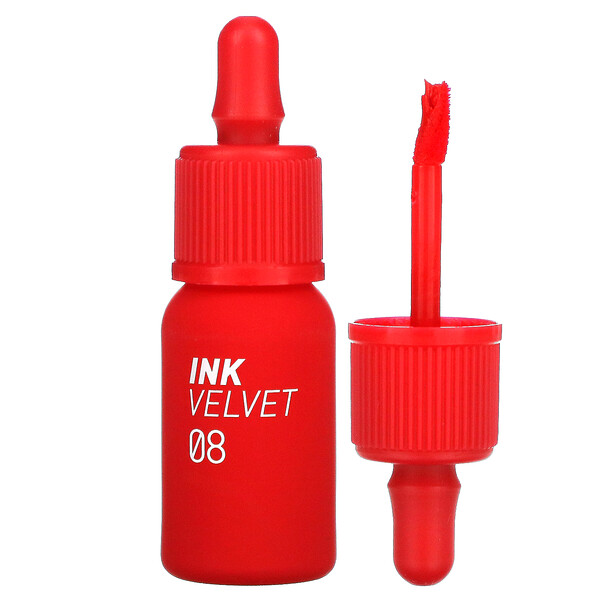 There were certain black magazines I avoided as a youth and others I looked at over and over. The ones I avoided had models with flat faces–matte makeup. The others had fresh, dewy makeup, even though highlighting wasn't a thing back then.
Dark skin is typically dry, not oily. So what were they mattifying? Even for those with oily skin, matte makeup flattens the many contours of brown faces. I get that it lasts longer and is great for full coverage, but it makes us look ashy. Even with highlighter and contouring, it looks ashy. It's just fine when only used on the T-zone, or only where it's needed. A dewy foundation can then be used for the rest of the face. I'm a dewy fan.
Matte looks lovely on lighter skin tones, though. To see examples, scroll down on this page for an Urban Decay medium coverage, matte finish foundation. Check the faces. All is fine until you get to the medium dark range. From there on, everyone looks flat.
So like the picture of the little girl in this article, we host different colors and depths of color on one face. If you look closely, she has at least seven colors on that one cutie-pie face. Because of this shading and depth, matte makeup makes our noses, chins and cheekbones recede. If you have large eyes, matte can be just what you need to bring out a baby-doll look. Otherwise, it just looks imbalanced.
Recall the last time you wore a nude, matte lipstick. Did it look good on you or did it make your mouth recede into the background. Kinda funny looking? That's my point.
Challenge: I was looking at some of the astounding makeup on https://www.instagram.com/blackopalbeauty/ Can you tell me which of these women are using matte foundation and which are using dewy foundation? Dewy foundation is amazing on dark skin, but if you're still on the fence, maybe Black Opal's Instagram can help you choose.
Below are some cream to powder tryouts, so you can get a more in depth look:
In the nearby future, hopefully I'll write something up about how to bring out the beauty of dewy makeup on dark skin. Thanks for reading. 😉